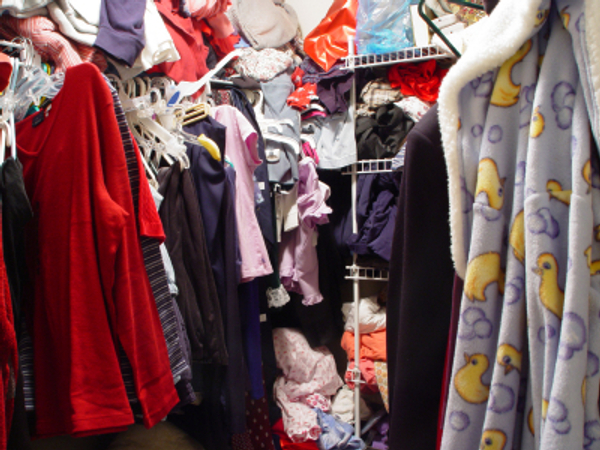 Sometimes, when we decide to tackle a project like a complete closet revamp, the task can be overwhelming. A closet audit and organization is a simple process. As you go through the steps to a closet organization, really look at each piece of clothing. Does it show signs of wear? If so, put it in a pile. Dies it fit? If not, it goes in a pile.

The only things that should be in your closet are things you wear every day

(in other words, things that fit, that are current in style and relevant to your lifestyle).
Step 1 - Separate tops from bottoms, and make some piles
All of your bottoms (skirts, shorts and pants) should be together in your closet.

Separate these pieces from your tops, sweaters and jackets. As you are going through your clothing, look at each piece, and consider if that piece is something you've worn in the past year.

If not, then set it aside. Determine if it needs to be cleaned, is it stained?

Does it need repair?

If so, set it aside.

Does the piece fit?

If the answer is no, it shouldn't be in your closet – set it aside.
With all of your bottoms separated from your tops, go through each section created in step-1, and separate each item by color. For example, your closet should have all the white items together, and then cream, yellow, green, pink, red, blue, grey, and black.
For patterned or striped items, fit those in with the dominant color in the piece. For example, a white striped blouse would go with the white section. A red tartan plaid shirt would go with the red section and so on.
Step 3 - Separate lengths
With your shirts, start by organizing the white section by sleeve length. Put all the tank tops together, then short sleeves, ¾ sleeves, long sleeves and then blouses, sweaters and jackets.
For jackets that aren't worn weekly, invest in some shoulder covers.

These little plastic gems will keep your jackets clean and dust free.
With pants and skirts, start with skirts, again by length. Then move to cropped pants, casual pants and dress slacks.
If possible, hang your pants on pant hangers (not folded over a shirt hanger).

Folding your pants will leave a crease, and the part of the pant that is folded over the hanger will collect dust.
Now what to do with those piles?
You will have 3 piles when you are done.

One with things that need to be cleaned or repaired, one with things that don't fit, and one with things you haven't worn in a year.
The things that you haven't worn or that don't fit should not be taking up space in your closet – or your home for that matter!

These are great items to donate…and goodness knows thrift shops like Goodwill would love to take those items off your hands (and offer you a nice tax deduction as a thank you!).
Shoes
- There are several schools of thought to how you organize your shoes, and it all depends on how many shoes you have.
To know me is to know that I have an affinity (does affinity mean addiction?) for shoes, so I organize my shoes by brand in the original box. Some people can't remember (or don't care) what brand of shoes they have in their closets, or don't keep the original boxes. In this case, purchase clear plastic shoe boxes.
It is important to keep your shoes covered.

Closets are dusty places, and those shoes you are not currently wearing (out of season) will get very dirty if left sitting on a shelf.
Belts / Accessories
- Depending on the lay out of your closet, belts can be hung on hooks or on a belt hanger.
Purchase some plastic or woven storage units for things like handbags, shawls/wraps/scarves, and seasonal items like holiday sweaters, bathing suits.
Hangers
- One fast way to make your closet look better instantly is to have nice hangers. The ones I like are Ultra Slim Flocked hangers from Bed Bath and Beyond – use one of those 20% off coupons you get in the mail!