{as seen in Sassy Magazine}
What is it about this time of the year; the weather

seems to dictate our daily fashion statements which means our style is best described as

"ho-hum". Look around, we have all fallen into a winter monochromatic slump. The notion of dressing in all one color has us thinking we are looking instantly slimmer…but that on-color ensemble can also make us look like we're not trying. There are other ways to camouflage what the gym hasn't taken care of yet
Go all one color – this doesn't mean you can simply choose black as your 'statement' and go with that until the first tulip pops up in the garden.

Choose a hue you know you look good in, for example blue. There are very few people who don't look amazing in blue! Vary the intensity of the colors from head to toe, and mix in a little texture.

This will make your outfit look styled as opposed to thrown together.
inside column
outside column
Become a column – break up the monochromatic monotony in your outfit choices with column dressing.

A column of color either on the inside or outside of your look can strategically direct the eye away from a little extra fluff.

For example, if you are holding weight in your midsection, be sure to create a column on the outside to bring the eye away from your belly.

Any place you have color or a detail is where onlooker's eyes will fall.

Be sure they are looking where you want them to!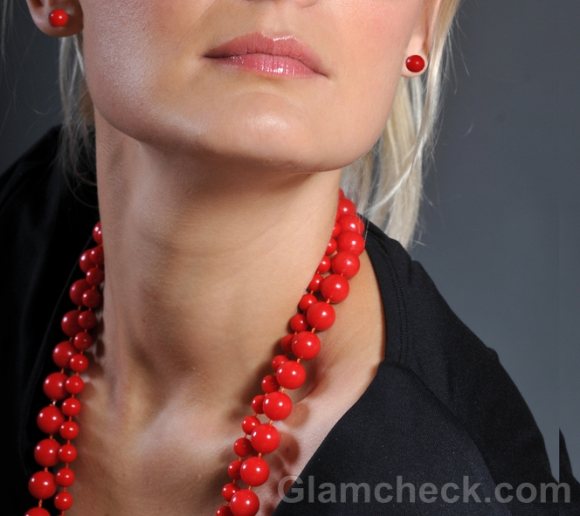 Keep accessories bold – big statement necklaces, over-the-top cocktail rings, bright lipstick.

These are all things that will capture the focus in your look.

There are many ways this can be done with jewelry, makeup even shoes.
Proportion is key – the proportion of all of your accessories need to be in-line with the proportion of your silhouette.

If you are a petite gal, be sure not to opt for the largest handbag you can find.

This will throw off your silhouette and make you appear unbalanced.

Likewise, if you are a plus size sassy woman, make sure your jewelry isn't on the delicate side. This "proportion is key" notion should also be considered when choosing the weight of prints and the busyness of patterns.
FREE-B! Go to www.KathyFriend.com and get a free chart that will help you decide the best kind of accessories to choose.
The most important element in embracing your "transitional figure" between winter and spring is to know your true beauty is an extension of your true self.
The best wardrobe will not be flattering unless you are shining from within.