BLACK TIE OPTIONAL
I saw a request on Twitter a few days ago. One of the
Twitter rock stars
asked for some help in putting together an outfit for an event. Of course, I saw this as an open opportunity to share my opinion - and what stylist passes up a chance to do that?
Let's start with a definition of what it is we're looking for.
In an article I wrote for
THE FAMILY MAGAZINE
in 2007 (
and re energized for Blissfully Domestic later in 2008)
, I said:
Black Tie Optional – this kind of event sets the tone from the invitation.
Typically this is a hint that the host wants to have a formal event, but knows
that people won't rent (or wear) a tux. This gives men an option to wear a good
dark suit rather than a tux. Ladies are still expected to wear dressy evening
attire.
Traditionally this would mean you should wear a dark suit – but how can we take the attire code, and twist it and make it Rock Star? If money were no object, there are tons of options. This awesome look by Versace (jacket is about 1,050 from Nieman Marcus):
Then of course, there is the Floral Ombre Tux jacket by D&G, this retails (from Nieman's) for about $5,000 (but it DOES makes a statement!)
Since I know budget is a consideration (
isn't is always?)
I searched for some alternatives. The key to getting the look you want is mixing in something that is unexpected with pieces that are traditionally 'formal wear'. There are a number of ways to do this - you can have a traditional tux in chartreuse (just kidding), a tux jacket with your favorite Levis, mix tux pants with a t-shirt, or be more sophisticated with some of these ideas:
LOOK #1
This look hits the mark with several things that are unexpected, but with the traditional 'tuxedo' flair.
Velvet Tuxedo blazer from Mark Shale (found on MarkShale.com). This is on sale for $270 (down from $450!), which is a much more palatable price point than anything over $1,000.
This shirt seems traditional, but it has something a little unexpected with the subtle pinstripe. It is by David Donahue from Nordstrom. You could pair the jacket with either white or black - because I am suggesting a dark pant, the white might be the best option. This shirt also has a french cuff - consider a cuff link that is a little "out there", something with some color.
7 for All Mankind 'Brunei' in a dressy dark denim.
And finally, Mark Nason 'Davis' loafer, from Zappos - in any of these looks, this shoe designer would add a fun punch to ground any of these options.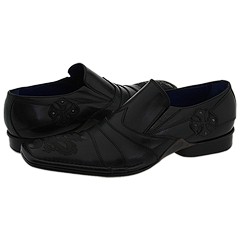 LOOK #3
This is another take on look #1. This jacket is from the Xtreme Couture collection from Men's Warehouse. It is on sale for $150.



Pair this daring jacket with a black dress shirt.
The perfect pant would be black with a brown pinstripe. The suit option below shows that color combination, from ItalSuit, only $229 for the whole suit!

I hope these options give you some ideas for your big event. HAVE A GREAT TIME - and be sure to take a photo of what you decide to wear!